Learn to Skydive
Static Line
One days' ground training & 1st jump
only £199
What is Static Line?
Static line (category system) is an affordable way to learn to skydive for £199, or £179 if you're jumping for charity. After successfully completing a day of ground training, you'll be ready to take to the sky. After your first jump, it's only £50 per go!
After a minimum of 17 jumps, you will achieve your A-license in skydiving. This means you can jump solo anywhere in the world!
When carrying out a static line jump, your parachute is opened automatically by a line attached to the aircraft, giving about 4 seconds between leaving the aircraft and having a fully open canopy. This will be from about 3,500ft.
After learning how to do this, you will then be able to have the line removed and pull the parachute yourself! You will then jump from increasing heights until you get to 15,000ft. After this you can learn freewill manoeuvres, until you're qualified.
Why learn with us?
Fast Aircraft - Beech 99's taking you to 3,500ft in approx 2 minutes. Less time in the plane, more time learning or skydiving.
World Class Instructors - Learn from some of the best skydive instructors around!
Community - Enjoy the welcoming and relaxed social side to our club.
During your ground training you will learn:
How your parachute equipment works.
How to board and exit the aircraft.
How to give the correct body position for a safe, stable exit.
How to identify the airfield, fly and land your parachute.
How to deal with novel situations and emergencies.
The program starts with one day's training on the ground. You will then be ready to take to the sky and complete your 8 categories.
Categories 1-2: Minimum 2 jumps- This consists of one days ground training and 2 solo jumps from approximately 3,500ft, where you will learn a good exit and body position. You will fly a parachute back to the parachute landing area (PLA) and land.
Category 3: Minimum 3 jumps - These jumps will be the same as previously, whilst also demonstrating you can deploy your own parachute with a dummy handle.
Category 4: Minimum 3 jumps - Your first freefalls with no static line. This time there is no dummy handle, this is for real! You will deploy the parachute yourself after delays of 3-5 seconds.
Category 5-6: Minimum 4 jumps - Freefall time increases to 10-15 seconds, and you start to use an altimeter.
Categories 7-8: Minimum 3 jumps - Exiting from up to 15,000ft practicing freefall manoeuvres such as backloops, turns and tracking. Once this has been demonstrated you will have your license! .
Note that the amount of jumps it takes to progress is dependent on students abilities.
Progress requirements
Before you get your license, every day that you come wanting to jump you must complete a quick refresh of your training in the morning.
In order to keep jumping whenever you want, you must jump once every 3 months. If you wait longer than this time limit you must complete an extended refresh, which would be longer and more thorough. There may be an extra charge for this.
After 6 months without jumping a full retrain will be required, with further extra charges.
There's a saying that 'currency is key'. In order to progress well, regular jumping is crucial!
Course Dates
We are running groundschools on the following dates, please call the office on 01404 890222 to book your place!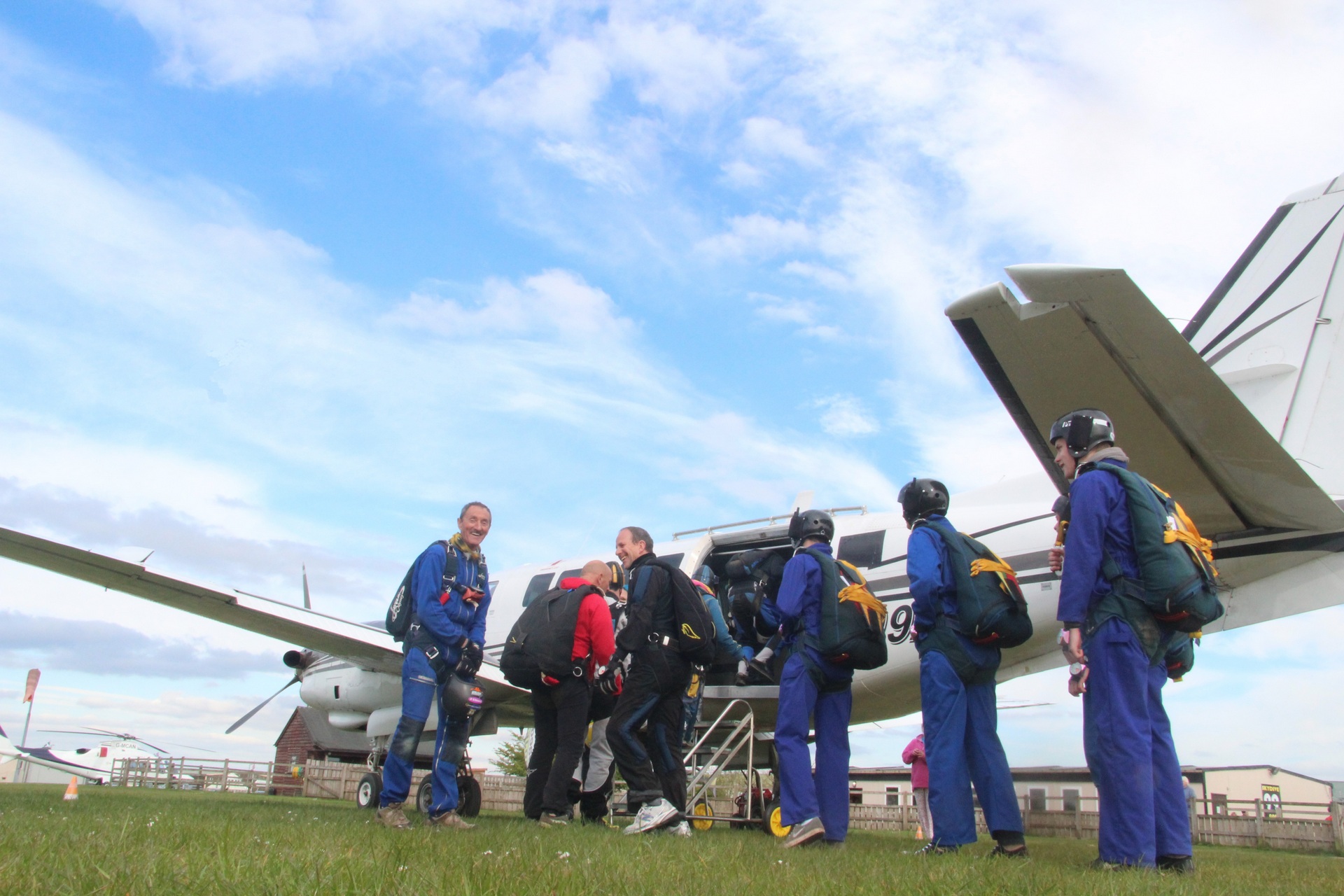 Height to Weight Chart
IMPERIAL
METRIC
ST
LB
FT
IN
KG
CM
7
7
4
4
47
133
7
11
4
5
49
135
8
2
4
6
51
138
8
6
4
7
53
140
8
10
4
8
55
143
9
1
4
9
57
145
9
5
4
10
59
148
9
10
4
11
61
150
10
0
5
0
63
153
10
5
5
1
66
155
10
10
5
2
68
158
11
1
5
3
70
161
11
6
5
4
72
163
11
11
5
5
74
166
12
2
5
6
77
168
12
7
5
7
79
171
12
12
5
8
82
173
13
4
5
9
84
176
13
9
5
10
86
178
14
1
5
11
89
181
Solo Line Restrictions
For weight restrictions please refer to the weight to height ratio chart, (find your height on the chart, then check you are no heavier than the adjacent weight). Please call the office before booking if you are over 14 stone.
For learning to solo skydive the minimum age is 16 years and the maximum age is 55 years. If you are aged between 16 and 18 you must obtain a parent or guardians consent, on BPA form 106 (Parental Consent).
If you have any medical conditions (i.e. diabetes, epilepsy, fits, recurrent blackouts, heart or lung disease, mental illness, asthma or shoulder dislocation) or will be aged between 40 and 55 on the day of your first jump, you must consult your GP to sign and stamp the BPA medical form 114-A(i) "Solo Student Parachutist Declaration of Fitness". These forms are available on request, from our website, or will be sent to you with confirmation once a booking has been confirmed.